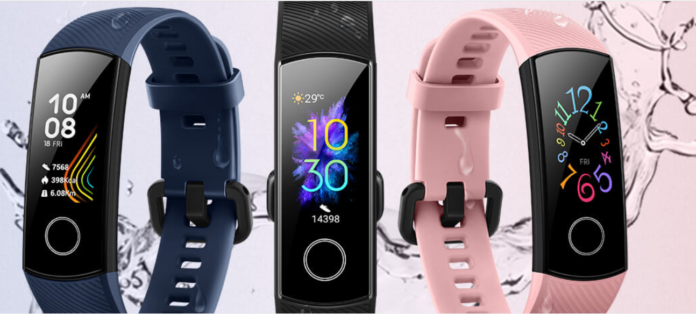 As you know, the Honor has one of the most complete features on a wearable band. The faces of Honor Band 5 not only look fashionable but also very charming in its own way. Face design can be said as one of the main factors that play a significant role in attracting the people. Therefore, it is possible to say that not only performance but also face design plays an indispensable role in this product. These charming faces let your smart life become more exciting!
The watch boasts of a face for every new occasion from gym, office, home to all other trendy switchable occasions. This, tends to explain why there are very many "how much is Band 5" questions all over google.
Best Features of Honor Band 5
Honor Band 5 is a fitness band for health conscious people who like to keep track of their daily activities. It has some really cool features from Color display to SpO2 monitor, which makes it stand out from the crowd. Here are some of its cool features.
1. Color display
The Honor Band 5 comes with a 0.95 inch AMOLED screen that displays full color screen and has 2.5D curved glass on top of it, which makes the screen clearer, sharper and better looking than traditional black and white display seen on most fitness bands.
2. Adjustable brightness
Most of the smartwatches and fitness bands have fixed brightness for their screens, but Honor Band 5 comes with adjustable brightness settings that you can set according to your needs, from low brightness.
The Honor Band 5 fitness band is also powered by a 100mAh battery, which the company claims can last up to 14 days on single charge.
The smart watch's AMOLED display features a resolution of 240×120 pixels. It also offers support for lift wrist to light screen.
Not forgetting its support for 24-hour heart rate monitoring, sleep tracking, and TruSeen 3.0 real-time heart rate monitoring technology to help boost heart rate accuracy in real time. It also supports swim stroke recognition that can identify five different swimming styles – freestyle, butterfly stroke, backstroke, breaststroke and mixed style.
There are also six workout modes on the Honor Band 5 including outdoor running, indoor running, outdoor cycling, indoor cycling, walking and pool swimming.
The Honor Band 5 can not only perform real-time fitness tracking, but also has a personalized running planner, which can comprehensively track various data of the body during exercise, and it will also formulate a more in-depth exercise plan based on the above data.
How to Use the Phone Finder Function in the Honor Band 5
The Honor Band 5 is a good fitness tracker and offers great value for money. It boasts of a 14-day battery life, and a water resistance rating of 50 meters. It also comes with some interesting features such as heart rate monitoring, sleep tracking and more. Most importantly, this smartwatch also allows you to find your phone.
Here's how to enable the phone finder feature in the Honor Band 5 and what you can do with it:
Enable the Phone Finder Feature in Honor Band 5
Step 1: Launch the app on your Android or iOS device.
Step 2: Tap on the Profile tab at the bottom and then tap on Honor Band 5 under Devices. Tap [Find My Phone].
Find My Phone: Enable this toggle to enable the Phone Finder feature in Honor Band 5.
Once you've enabled it, open the band's menu by swiping left from the home screen. Select More Settings followed by Find My Phone to turn it on.
Do not be left behind anymore. Locate your phone today with the best smart wearable.