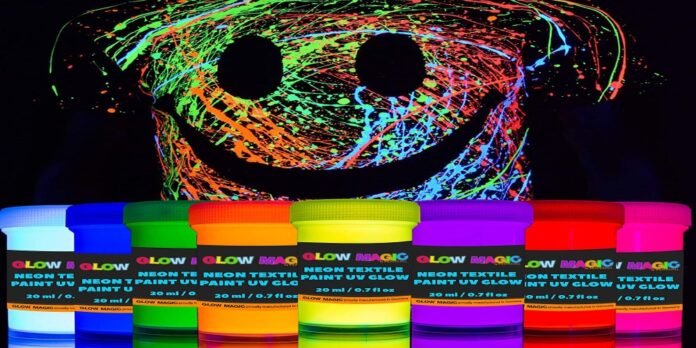 Clothes that shine in the dark are constructed with glow-in-the-dark yarn or thread. Because glow materials are not radioactive and do not contain any hazardous chemicals, they do not pose any health risks. Embroidery and sewing projects that glow in the dark are also possible uses for this yarn. They have the potential to be woven into the fabric, which may then be utilised for a variety of applications.
Wearing garments that glow in the dark is a novel and entertaining concept. All that is required of you is to expose the material to a light source that is either white or blue. The illumination characteristics influence the length of time that must be exposed. You need a few minutes of UV illumination, but you'll need around 20–30 minutes combined with indoor lighting and sunshine. They take up light from the source of the light and continue to do so until they are discharged, at which point the stored light is released.
How Is Glow Cloth Made?
Chemicals are used to dye photoluminescent chemicals into thread, which results in the production of glow in the dark fabric. Because of the process the cloth goes through; the glow pigment will stay embedded in the fabric even after being washed. In most cases, they can resist up to one hundred washing cycles. They may also be ironed. However, it is recommended that direct ironing be avoided if possible. Wearing clothes that glow in the dark is not uncomfortable. You can use glow-in-the-dark paint to make regular fabric glow, but these paints appear best when used to draw patterns on the fabric rather than when used to paint the fabric as a whole.
Practical uses for Glow in the Dark Clothes
The glow-in-the-dark clothing's primary benefit is that it increases the wearer's visibility in low-light situations. If you go running late at night or early in the morning, wearing a suit that glows in the dark can keep you safe and guarantee that others can see you. It is also helpful for campers, provided they create their tent out of materials that glow in the dark.
They are versatile enough to be employed in interior design. You may perform a magical transformation of your space by using glow in the dark fabric. Your house may be made brighter by using curtains and furniture coverings illuminating in the dark. They are also suitable for use as blankets and sheets for beds. Additionally, it is an excellent option for Halloween costumes. Printed with skulls, skeletons, etc., they have a spooky appearance. Pumpkins carved like Jack-o'-lanterns and other costumes that glow in the dark are also available for Halloween.
Photo Luminous Glow in the Dark Thread
Raw materials such as glow-in-the-dark thread and glow-in-the-dark fibre are used in manufacturing various glow-in-the-dark fabric-related goods. It is possible to create glow cloth using glow-in-the-dark thread and embroider or stitch glow patterns into glow-in-the-dark fabric. Although we only sell a single kind of glow thread, we offer it in several colours.